Research Verified Body & Breath-Review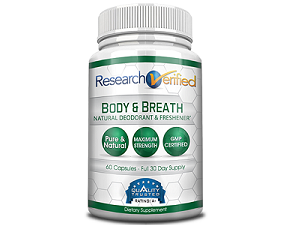 Product Claims of Research Verified Body & Breath
Research Verified's Body & Breath dietary supplement claims to provide a multi-action formula that treats both halitosis (or, as more commonly known, bad breath) as well as unpleasant body odor. The formula is appropriate for individuals suffering from either one or both of these conditions, and its formula is specially designed to balance good and bad bacteria in the mouth and body to prevent pungent smells. In addition, this formula contains ingredients that are said to provide extra support to the immune system and to promote overall health, preventing an overgrowth of bad bacteria. Read our report below for the full scoop on Research Verified's Body & Breath supplement.
Ingredients
Each serving of 3 capsules contains the following:
2 million CFU of Lactobacillus Acidophilus
200mg Chlorophyllin-copper complex or Chlorophyllin (SCC)
100mg Fennel (Foeniculum vulgare) Seed
Other Ingredients: Gelatin, Magnesium Stearate, Calcium Carbonate
This formula, which does not contain preservatives, artificial coloring or hormones, includes the research-tested key ingredients Lactobacillus Acidophilus, Chlorophyllin and Peppermint Oil. These ingredients are extremely effective for probiotic intervention and for providing therapeutic benefits. The problems are eliminated from the inside out. For example, Chlorophyllin neutralizes these malodors by absorbing the compounds that cause the bad smells, and then expelling them from the body. The combination of ingredients is designed to fight bad bacteria, balance good bacteria through probiotics (promoting a healthy digestive system), and prevents the overgrowth of the bad-smell-causing bacteria.
Dosage Instructions
The suggested dose is up to three capsules daily, as needed. When using the supplement over an extended period, it is recommended to take one capsule in the morning and one in the afternoon before meals with an 8 oz. glass of water.
Cost and Guarantee
Our research has found that this product is reasonably when purchased in larger quantities for use over several months and when purchased online from Research Verified directly. At the time of writing, Research Verified was offering a price of $48 per bottle, with discounts for three bottles at $33 per bottle and six bottles at $24 per bottle. Since this product is designed to be taken over a period of time to balance the body's bacteria, the multiple-bottle purchase seems to be the way to go.
Another huge advantage to purchasing from Research Verified is its risk-free 365-day money-back guarantee. All bottles, both opened and unopened, may be returned for up to a year for a full refund.
Summary of our Research Verified Body & Breath Review
In conclusion, we find this Body & Breath supplement to be a top pick. Its formula that is based on strong clinical research is designed with consumer safety in mind, and is specifically focused on treating the underlying imbalances in the body that are at the root of halitosis and body odor, rather than just covering up the smells. Research Verified excels in its use of third-party testing and its commitment to top quality in the manufacturing process - they are FDA- and cGMP-approved and their laboratories comply with US Pharmacopeia's quality standards. To get more information about this company, read our Research Verified review. We conclude our review with a top score for Research Verified's Body & Breath supplement, and with a one-year money-back guarantee, it seems the consumer has really nothing to lose when trying this product.
Top analysis brought to you from the Analyze That team.