Research Verified Stretch Mark Repair-Review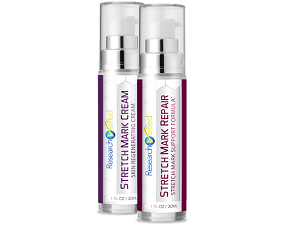 Product Claims of Research Verified Stretch Mark Repair
Stretch Marks affect many people for any number of reasons. These reasons include, but are not limited to, weight gain, pregnancy, puberty, and so on. As more and more people try to find ways to get rid of these ugly marks, the market subsequently becomes flooded with scam products and shoddy treatments that barely work. Once again, Research Verified has decided to break this trend with refreshing transparency. Their Stretch Mark Repair comes in two forms, a gel and cream, both of which seek to repair damage caused by stretch marks in a unique dual-action treatment method. The gel reduces the inflammation of stretch marks, while the cream moisturizes and nourishes the skin, improving levels of collagen, renewing skin cells and preventing new marks from appearing. The Stretch Mark Repair also boasts Research Verified's seal of approval, indicating that it meets all the criteria for safety and effectiveness. The product claims to possess no contaminants, that it has been tested by a 3rd party, has FDA approval, manufactured in a cGMP laboratory, contains dosage and purity in line with clinical data, and meets US Pharmacopeia's standards of quality.
Ingredients
Ingredients for the gel include:
Dimethicone
Cyclomethicone & Dimethiconol
Cyclopentasiloxane
Dimethicone/Vinyl Dimethicone
Crosspolymer
Ingredients for the cream include:
Carthamus Tinctorius (Safflower)
Seed Helianthus Annuus (Sunflower) Seed Oil
Allium Cepa (Onion) Bulb Extract Seed Oil
Tocopheryl Acetate (Vitamin E)
Allantoin
Vitamin C (Ascorbic Acid)
Helichrysum Stoechas (Immortelle) Extract
Dosage Instructions
Gently massage the cream and gel onto afflicted areas. This should be done at least three times daily. Discontinue immediately if a rash develops. If the cream or gel gets into the eyes, wash the eyes with water immediately.
Cost and Guarantee
The website has three purchase options available. These options range from buying one bottle for $48 to six bottles for $144. The six-bottle purchase saves customers over $270. The website provides different payment options, including Paypal, Paypal Credit, and Amazon. Research Verified further promises an unprecedented 365-day money-back guarantee. Dissatisfied buyers can send back all purchased bottles and receive a full refund, excluding any shipping charges. Our Research Verified review covers many other benefits of purchasing from this company.
Summary of Our Research Verified Stretch Mark Repair Review
Research Verified once again provides another amazing product rife with incredible endorsement. By their own admission, there are untold hundreds of stretch mark repair products on the market, each claiming to be the best. However, Research Verified goes out of their way to provide the proof that so many others fail to do. Their 365-day money-back guarantee further emphasizes the sheer confidence they have in their Stretch Mark Repair Gel and Cream. Research Verified is also very transparent with their product, providing the label and formula on their website, as well as links to reputable clinical studies that only further bolster their claims. In a market flooded with unreliable stretch mark repair products, Research Verified Stretch Mark Repair stands out as a refreshing bit of honesty that we recommend.
Top analysis brought to you from the Analyze That team.