Research Verified UTI Relief-Review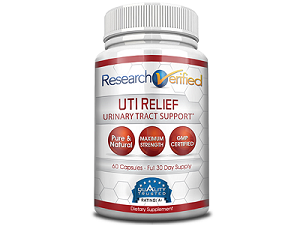 Product Claims of Research Verified UTI Relief
Our review of UTI Relief provides an in-depth look at the dietary supplement aimed to both relieve symptoms of urinary tract infections (UTIs) and to provide long-term protection against UTIs. This product is manufactured by a company that we have come to trust for producing effective and high-quality products -- Research Verified. A reliable supplement for UTI treatment should contain the potent combination of lingonberry and cranberry that deliver powerful antioxidant and antimicrobial properties, and UTI Relief's formula is made of this exceptional blend. Our review below examines this product in greater detail.
Ingredients
Each two-capsule daily serving contains the following:
This is a pure product that does not contain any preservatives, artificial colorings or hormones. It contains the potent combination of cranberry and lingonberry which fight UTIs and promote optimal urinary tract health. This powerful formula treats all the affected areas of the urinary system -- the kidneys, bladder, and urethra - and each ingredient has been clinically proven to be effective.
Dosage Instructions
This supplement is intended to be used both during an attack, as well as on a daily basis as a continued dietary supplement for optimal health and prevention against UTIs. The recommended dose is up to 6 capsules daily during an attack: 2 in the morning, 2 in the afternoon and 2 in the evening. When being taking as a dietary supplement, not during an actual attack, it is recommended to take two capsules per day, 1 in the morning and 1 in the evening before meals with an 8 oz. glass of water.
Cost and Guarantee
ResearchVerified offers a discount on online purchases made through their website. The manufacturer offers the biggest savings on the six-bottle supply (which should last for a duration of six months) and additionally recommends this long-term plan for obtaining optimal health and long-term prevention against UTIs. This six-bottle package costs $24 for each bottle, while a purchase of three bottles is priced at $33 per bottle and a single-bottle purchase is $48. In addition, ResearchVerified offers an unparalleled 365-day money back guarantee - this means that consumers have a full year to try out the product, and if not satisfied, they may return both opened and unopened bottles for a full refund.
Conclusion of Our Research Verified UTI Relief Review
Research Verified is one of the companies that we continually admire for producing high-quality dietary supplements that are based on real clinical research and comply with the highest standards of safety and purity. With their product, UTI Relief, specially designed to relieve urinary tract infections (UTIs) and to provide long-term protection against UTIs, it seems that Research Verified has excelled once again at producing an exceptional product. And with their one-year money back guarantee, there seems to be no reason not to give this high-ranking supplement a try. To read more about our Research Verified Review, click here. 
Top analysis brought to you from the Analyze That team.